Hienote is THE FIRST drop ship directory member of the Trade Show Exhibitors Association (TSEA)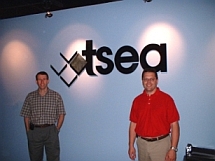 There are thousands of wholesale companies who participate in trade shows every year. They spend a significant amount of money attending a trade show to meet retailers such as YOU. As we researched trade shows to find wholesale companies who offered drop shipping, we wanted to join the community of REAL experts who assemble the trade shows. As we personally met with hundreds of wholesale exhibitors and trade show experts, it became obvious we are the first drop ship directory to exclusively research the trade show industry. We have personally met with many members of organizations such as the Trade Show Exhibitors Association (TSEA) and the Center for Exhibition Industry Research (CEIR). Many of these organizations were located near our headquarters by Chicago.
Hienote is a member the Trade Show Exhibitors Association (TSEA). TSEA has been the premier industry voice for exhibit and event marketing professionals. Since our research of wholesale drop shippers is heavily focused us searching trade shows, we meet hundreds of exhibit marketing experts. For over 30 years, TSEA has provided knowledge to marketing and management professionals who use exhibits to promote and sell their products, as well as to those who supply them with products and services. TSEA represents more than 2,100 members from the United States and abroad. The association has assembled timely information for the exhibition industry. We are the first wholesale drop ship research company to join TSEA.
Publications such as Tradeshow Week have reported that an overwhelming majority of its readers believe "trade show associations are the lifeblood of the industry stimulating industry growth and professionalism". Many of their readers are wholesale drop shippers. TSEA plays a key role in creating programs to help further exhibitions in the marketplace, and the exhibitor's position within the industry. As an active member of TSEA, Hienote is the industry leader in finding drop shippers at trade shows.
If you would like to learn more about the TSEA, you can visit their site at http://www.tsea.org
Would you like to see what we do for our members trying to find products to sell online? Click here.